From more sightings of big cats to psychic octopuses, a macabre discovery at a car-boot sale to a ghost of a German airman haunting a Poole shoe shop. 2010 has been a busy year for weird and wonderful news in Dorset.
JANUARY
-
Friday, 1st January 2010
Tatooed skin with Dorset connection turns up at car boot sale
The tattooed skin of a would-be killer that was used to bind a Victorian pocket book has been discovered at a car boot sale.
READ MORE - Source: Dorset Echo Friday 1st January 2010
Angler Matt Sparks was stunned when he spotted a seal while fishing – 10 miles inland from the sea.
Matt, 36, was fishing for grayling on the River Frome near Wool when the seal suddenly popped its head up. He clicked his fingers at the mammal, which then swam close enough to be touched.
READ
MORE - Source: Dorset Echo Wednesday 17th February 2010
MARCH
- Wednesday, 31st March 2009
Abbey unearthed in Abbotsbury garden
A grandfather has unearthed an 11th-century abbey in his back garden. Peter Laurie, 73, and his grandson Oscar, 16, were searching for the remains of a Roman road when they came across their unexpected treasure.
READ MORE - Source: Dorset Echo Wednesday 31st March 2010
APRIL - Thursday, 29th April 2009
King Edward VI's remedy oak tree gets revamp
An 800-year-old oak tree in Dorset under which King Edward VI is said to have sat and cured people's illnesses has been given a revamp.
A plaque on the Remedy Oak in woodlands near Verwood refers to the incident in summer 1552, when the king was aged 15.
Legend says he dispensed healing powers by touching those brought before him suffering from various ailments.
They included scrofula, which the King himself suffered from and became known as The King's Evil.
READ MORE - Source: BBC News 29th April 2010
MAY - Saturday, 16th May 2009
Upwey Well Dressing
This is the 24th Upwey Well Dressing and this year the display marks the centenary of the Girl Guides movement, depicting scenes of camping past and present..
Read more: Dorset Echo Wednesday 5th May 2010
Well dressing
was introduced to
Upwey
in 1986. Some Derbyshire Ladies who moved to the area started the tradition of dressing the well, as per Derbyshire custom. Thus The wishing well is now dressed each year at around May Day. The Upwey Well Dressing is very much a community effort, which raises good money for local charities, this year proceeds will go to the
South Dorset Girl Guides
.
The origins of the tradition are alternatively said to lie in pagan tradition or in giving thanks for the purity of the water drawn from certain wells during the period of the
Black Death
. It is often said to have originated in Tissington, Derbyshire, though other claims can be made for Eyam and Stoney Middleton. Whatever its origins it was historically a custom exclusive in England to the Peak District of Derbyshire.
The information accompanying the Upwey Well Dressing reads:
"

Well Dressing
Springs and wells all over the world have been revered since ancient times. In Britain the most famous examples of this tradition are Well Dressings in the Peak District villages of Derbyshire, where, during the time of the plague, communities with fresh water supply were able to protect themselves by sealing their village off from sealing their village from the outside world. Weymouth is were the Black Death entered the country in 1347. Since then wells and springs were dressed annually in thankfulness and celebration.

Here at Upwey Wishing Well is the main source of the River Wey - the largest natural spring in the south - and local people with Derbyshire connections introduced Well Dressing to the local community in 1986. Ever since the Wishing Well has been dressed annually at the May Day weekend.



Planning and designing takes several months but work starts in earnest during the week leading up to the May Day Bank Holiday.

First, a wooden framework is made and soaked for a week or so in the water gardens. Then, in the week before installation, a layer of clay is laid out on the framework of boards and the design marked out. Over the following three days the picture is built up with leaves, seeds, and other natural materials. Finally, on the day before installation, thousands of flower petals are added to give brilliant colour. Local gardeners are very generous and no wild flowers are used. The work is very intensive and painstaking and has to be completed within this short period. Although it is at its best in the early days, the Well Dressing last for three to four weeks."
Brief History of the Wishing Well
The Wishing Well at Upwey is a natural spring
and source of the
River Wey
. The tradition as a wishing well is said to have begun as a visitor attraction in the early 20th century.
Visitors would often participate in the ritual by taking a few sips of well water from a glass. And throwing the rest of the water backwards over their left shoulder while wishing.
The Wishing Well waters are thought to also have healing properties especially in the healing of sore eyes. (see article
'Bincombe's Link to Ancient Spring 10th March 2004'
)
George III often visited the village of Upwey during his stay at Weymouth. He was particularly attracted by the spring that it is said that this caused a seat to be set nearby for his use. It is also said that the gold cup that the king drank the spring water from later became the Ascot Gold Cup.
JUNE - Monday, 14th June 2009
Big cat 'beast is sighted in forest
A man has claimed he saw a big cat prowling Wareham Forest. Lytchett Matravers man Daniel Green says he saw the puma-like creature crossing the Bere Regis Road as he drove from Holton Heath on Monday morning last week.
READ MORE - Source: Dorset Echo Monday, 14th June 2010
JULY - Thursday, 29th July 2009
Mystery "Cave Man" spotted in Dorset woods
A mystery 'caveman' has been spotted in the woods along the coastal path. He was snapped by holidaymaker Nuala Hamilton from the Mull of Kintyre. Ms Hamilton, 43, had travelled to Lyme Regis on holiday with a friend and her greyhound Judy to look for fossils
READ MORE - Source: Bridport and Lyme Regis News Thursday 29th July 2010
AUGUST - Monday, 16th August 2009
Beast of Dorset makes another appearance - in Crossways
The Beast of Dorset has made another appearance near Crossways. Pam Massey, of Crossways, and Molly Parkin and her mother Jenny Parkin, of East Dulwich, London, were driving from Bovington to Crossways on a minor road late at night.
READ MORE - Source: Dorset Echo Monday 16th August 2010
SEPTEMBER - Monday, 28th September 2009
Ghost of German bomber pilot believed to haunt Stainers shoe shop in Poole
The ghost of a German bomber pilot is believed to haunt a shoe shop where his plane crashed during the Second World War. Staff at Stainers in Parkstone claim to have had many "Herr-raising" experiences over the years, thanks to a resident spook they've nick-named Heinz.
Source: Bournemouth Daily Echo Thursday 23rd September 2010
OCTOBER - Wednesday, 27th October 2009
Paul the psychic octopus is dead
Former Weymouth Sea Life resident Paul the psychic octopus has died at an aquarium in Germany. Management and staff at the Oberhausen Sea Life Centre were devastated to discover that oracle octopus Paul, had passed away overnight. Paul, who was born at Weymouth Sea Life Park, made a name for himself by correctly predicting the outcome of this year's World Cup matches.
READ MORE - Source: Dorset Echo Wednesday 27th October 2010
NOVEMBER - Monday, 8th November 2009
Whale of a task for bone expert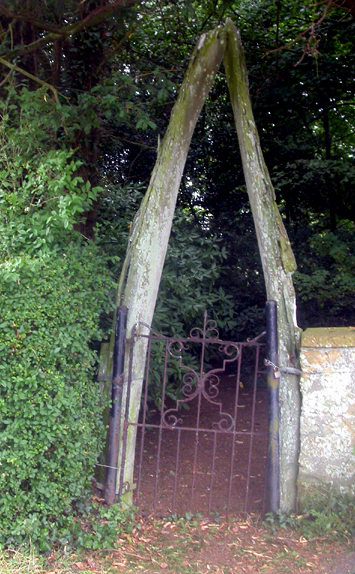 A curious 130-year old whalebone arch gracing Chideock Manor has been preserved for posterity thanks to a bit of serendipity and a lot of specialist knowledge. Deirdre and Howard Coates bought Chideock Manor 14 years ago and have watched the whalebone arch – probably dating back to around 1880 – steadily crumble before their eyes.
READ MORE - Source: Bridport and Lyme Regis News Saturday 20th November 2010
More information visit http://www.natural-history-conservation.com/chideock.htm
DECEMBER - Thursday, 23rd December 2009
Colossal pliosaur fossil secrets revealed by CT scanner
The innermost secrets of a colossal "sea monster" skull are being revealed by one of the UK's most powerful CT scanners. The X-rays are helping to build up a 3D picture of this ferocious predator, called a pliosaur, which terrorized the oceans 150m years ago. The 2.4m-long (7.9ft) fossil skull was recently unearthed along the UK's Jurassic coast, and is thought to belong to one of the biggest pliosaurs ever found. The scans could establish if the giant is a species that is new to science.
READ MORE - Source: BBC News

23rd December 2010