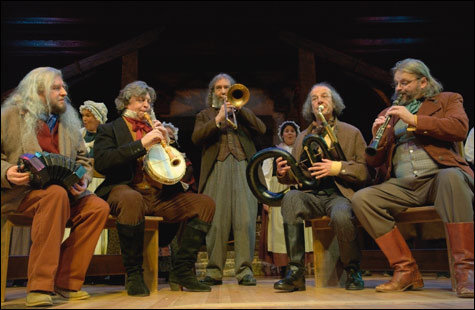 On 18th December 2010 at the Village Hall, Cranborne, Dorset. West Gallery music has unique vigour and excitement, as well as being accessible to singers and musicians of all abilities. It is rhythmic, full-voiced, and has a fascinating combination of wild harmonies and unorthodox counterpoint. The choirs and their music are unforgettably portrayed by Thomas Hardy in Under The Greenwood Tree and some of the pieces we will be singing and playing come from the Hardy family's own collection of manuscript books, and from other Dorset sources. Singers and musicians will find it helpful to have a basic knowledge of written music. The intention is to do as the village bands did, and welcome whatever suitable instruments are available, whether in modern or historical forms. The only instruments not suited to this repertoire are keyboard instruments and chordal instruments such as guitar.
Workshop and Concert (events can be booked separately)
Workshop info: A day of singing and instrumental music making, led by The Mellstock Band.
Time: 10.30am – 4.30pm.
Cost: £35.
Concert info: The Leaves of Life - Christmas Concert by the Mellstock Band
Christmas music in the English tradition, from Carols to Revels and from Alehouse to Church Gallery. Fully-costumed performance with period instruments.
Time: 7.30pm
Cost: £10
More information - Contact: 01202 885294 or 01258 840097 or
info@joyousisle.com
or visit
www.joyousisle.com